sport=basketball&show=20342&stt=101000550123031&lbl=FOULS-PENALTY-TIME%20OUT-PERIOD-PENALTY-TIME%20OUT-FOULS&pushdown=50
Online Basketball ScoreBoard
The free online basketball scoreboard will let you monitor sport events. This score counter has been customized according to the International Basketball Federation (FIBA) regulations that governs basketball worldwide, including the Olympic games. Use a projector or a shared big screen to display the results.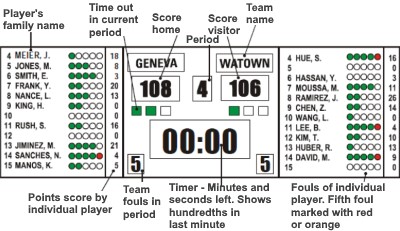 Contents of an official FIBA panel.
Additionally it's required to install shot clocks above each basketball hoop which is also available on this website.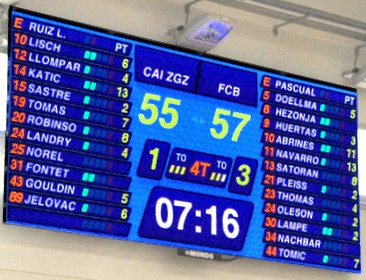 There are some major differences between the FIBA and NBA scoreboards: the duration of the periods is 12 instead of 10 minutes and teams can gain 6 fouls during a period. Usually it's displayed the statistics of only the five active players.
Use this online scoreboard with a projector or with a shared big screen to display the score. Share the results with a web link at the end of the game.
Open the settings How 2 use? Close intro
The settings
You can customize what's displayed and what's hidden on this scoreboard. Unofficial games don't use the players panel which can be hidden, giving more room to the score counter and the timer. Show the shot clock or change the order of the rows.
The example below demonstrates the possibilities and customizability of the score counter. Replace the name of the teams with their logos and set a custom design matching the colors of their jerseys.
At the end of the game you can save and share the results with a single web link like this one: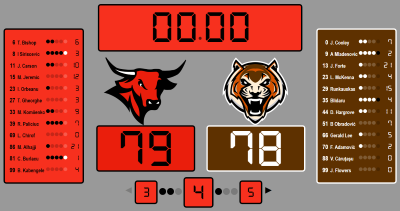 Click the image to open the saved results
Open the settings ot set up and style this panel. Adjust it to almost any sport, set up your favorite color scheme and team logos. Try the demos in the menu to get started and try to create and save your own template!