Online cricket ScoreBoard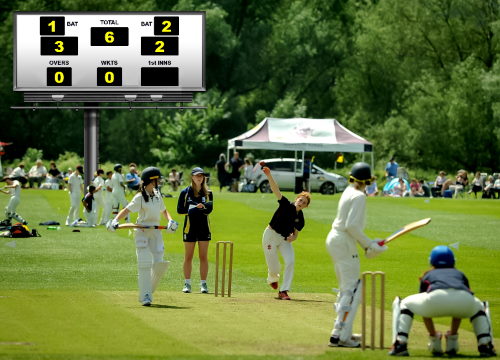 This free online cricket scoreboard displays the score of the game, who is batting, it's counting overs and wickets and shows the score in the first innings. It can be easily used with a projector, replacing ugly-looking LED scoreboards. Find counters for other sports/games on the home page.
A cricket score is generally expressed in the form of 236-5 in 36. 1 overs, meaning that the team batting has 236 runs and has lost 5 wickets in 36 overs and 1 ball. Cricket include a scorecard that is made up of three elements: batting figures, bowling figures, and fall of wickets.
The batting figures tell you what happened to each batsman during the innings. They will say if and how he was out (catch, bowled, run out, stumped, leg before wicket, obstructing the field, hit wicket), which bowler and/or fielder was responsible for getting him out, and how many runs he scored. Sometimes the batsman gets injured and they have to leave the game and retired hurt is mentioned in front of his name. They may also list how many balls he faced (including the No balls), how long he batted for, how many fours and sixes he hit, and his strike rate (runs per 100 balls). In addition, there will be a line for extras (i.e. penalty runs accruing to the team but not to any individual batsman), which may be broken down into byes, leg byes, no balls and wides. Finally, there will be the team's total score.
The bowling figures are given for each player who bowled during the innings. A minimum of four columns will be given. These are the number of overs he bowled, how many of those were maiden overs (i.e. had no runs scored off them), how many wickets he took, and how many runs he conceded. Other columns that may be included are the number of wides and no balls he conceded, and his economy rate (runs per over). It may be that one or more bowlers did not bowl an integral number of complete overs, either because he took the final wicket of the innings or because of injury. Partial overs are always indicated by a point followed by the number of legitimate balls bowled. So 3.5 means three overs and five balls, not three-and-a-half overs.
The final part of the scorecard is the fall of wickets. This tells you the score when each wicket fell, and which batsman was out at the time. From this you can calculate the number of runs made by each partnership (i.e. two batsman batting together).
Other details can also be mentioned on the scoreboard: Competition (Series Name I.e. World cup, Border-Gavasker Series), Venue (i.e. Feroz Shah Kotla Stadium, Delhi), Match between and versus (i.e. Pakistan vs England), Toss winner team (Bangladesh), Elected choice of toss winner (i.e. Elected to Field), Inning and date, Umpires (i.e. Aleem Dar), Refery (i.e. Rajan Madogaly), Time (Time indicates when to start and stop the play), Target (i.e. 245), Result (who and how won the match i.e. India win by 3 wickets or England win by 26 runs).