Online Table Tennis (Ping-Pong) Score Board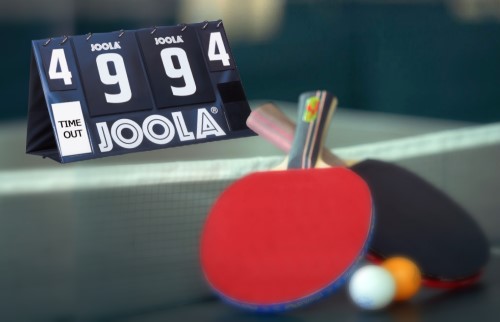 Fully customizable online table tennis scoreboard. Adjust the settings below to apply custom score counting rules and decide what to show and what to hide on your ping-pong Score Count. Use it with the tournament diagram generator to govern a championship.
Settings
First set the names of the players/teams editing the captions above the counters. Click a score to incease its value. The serve rotation will be alternating and the set counter will increase automatically when someone wins a set.
The settings below allow you to reset the score to start a new game and to hide certain parts of the board. Pick a theme: default, light or dark. The next row lists the keyboard commands. The points of a player can be increased with the Z and X buttons. Click round the pencil icon to adjust the point and set counters as regular input fields.
The rules of the game can be also adjusted below. By default a set is won by whoever reaches 11 points with at lease 2 points difference. The game is won by the best of 5 sets or the one who wins 3 sets. The serve rotation is after every two points and it's alternating after deuce.
The game can be easily set to the 21-point scoring system with an increased serve rotation of 5 points, like how it has been official before 2000.