Online Tournament Brackets Diagram Genearator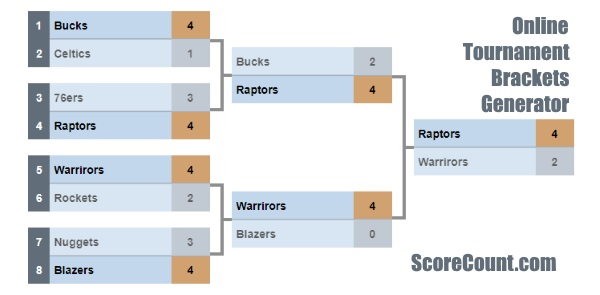 Generate tournament brackets diagrams to easily manage and visualize knockout or single-elimination championships and playoffs. Make free customizable brackets, save and embed them on other websites.
This will complete prefectly the online score boards.
Use the slider to set the amount of competing teams.
Load the Demo and experiment with the settings.
List the competitors in the first column and optionally shuffle them.
Fill the scores and advance winners to the next round.
Share or embed the results in the web link.
Bracket Settings
The tournament bracket settings below can be activated with checkboxes. You can load the Demo and click through these settings to see what they do.
Ordered - Mark the teams in the first column with numbers. By default they are ordered counting from 1 but this can be changed to other numbers or short words.
Venue - Add a short note above each game marking the location and/or time of the event. By default this input field marks the order of the duels starting from the first round through the finals.
Rounds - Single elimination tournaments are played in rounds. Whene there are 16 competing teams the first round is called 8th-finals, the second round is the quarterfinals then comes the semifinals and the final. Activating this option will display the name of each round at the bottom of the screen.
Highlight winners - Fades out the losers and highlights the winner that advanced to the next round. The winner scores are marked with bronze color.
Score - This setting allows to hide the score display and leave more room for the team name display.
Advance winners - Automatically send the winners to the next round based on the score.
Winner - Displaying the winner of the tournament in the last column is not always necessary, especially when the winner of the finals is highlighted and the score is visible. This option hides the final winner.
Title - Hidden by default, with this option we can display a title or the name of the tournament.
The Perfect Challonge Alternative
This online trurnament brackets diagram maker, just like other score counters on our website runs in the web browser without downloading and installing any program. It's using only HTML, CSS and JS which means that it's compatible with most modern web browsers, including desktop and mobile.